Lunch With Santa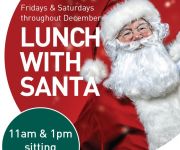 Lunch with Santa
Fridays and Saturdays through out December
11am sitting and a 1pm sitting
Come and join us for this most festive lunch with the man himself. Santa will be enjoying his lunch break away from his workshop to join your little ones for a festive bite. After lunch, sit and enjoy a festive story read by Santa before receiving a little special gift to take home.
£15 per child. includes special festive lunch served with hot chocolate, story reading and a gift from Santa.
£12 per adult. Includes an afternoon style lunch with tea or coffee
Spaces are limited so please be sure to book in good time to avoid disappointment. Upon booking please give details of your child's name, interests and an a special fact only Santa might know- to create the magic.
Dates: , , , , , and
Locations: Welland Vale Garden Centre, Orchard Café